It is important to ensure the
"Shoeing Process"
of the hoof, is adequate
for the horse's condition.
FARRIER U is a private trade school located in Dade City, Florida, sitting on the Northeast corner of beautiful Pasco County. Established in 2004, FARRIER U is family owned and operated. Our courses are kept small and accelerated for our students to gain the maximum training under the guidance and instruction of senior educator, Emmet Stevens, Sr. He instructs all students first-hand. Our students are fortunate to witness Emmet's excellence in performance on all types of horses ranging from backyard horses all the way up to the World Class Show Horses. Emmet is well-known for his methods in performance, his knowledge on the anatomy of a horse and of the way a horse should move. His keen sense of horsemanship also enables him to have good judgment of a horse which helps him to anticipate the horse's every move. He takes PRIDE in the skills and techniques that he owns and has mastered over the years and encourages all students to set goals to accomplish this same pride for themselves.
OUR MISSION is to train and educate individuals in the field of farriery. Students will learn to assess, treat and maintain the health and soundness of horses. We strive in preparing our students to be a self-employed farrier with values of honesty and integrity.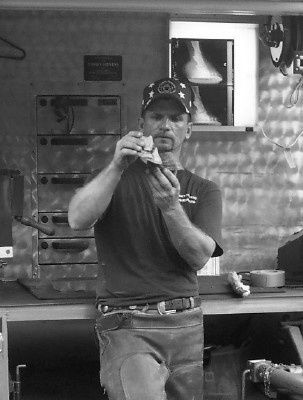 Senior Educator, Emmet Stevens, Sr.
Emmet Stevens is a professional farrier and horsemen with much experence in the equine field. His horsemanship skills, techniques and talent have come from many years of working with horses. Emmet has been around horses and in the horse business most all of his life. He is a second-generation farrier. As a child, Emmet would tag along as his father paid visits to horse owners and kept the animals footwear up to date. His father was training, shoeing and showing horses well before Emmet was even born - Emmet was brought up in an equine environment which reflects his horsemanship.
In his early 20's, he rode and galloped an estimated 200 horses a week for seven years. He then worked cattle on horseback, trained problem horses and showed pleasure/halter horses. Emmet's love of horses, and of being around horses, is what inspired him to become a professional farrier by trade.
After attending farrier school in the early 90's, Emmet apprenticed with a few well-known farriers in Central Florida, who were also accomplished horsemen. He rode with these farriers to gain their valuable expertise and to get the additional hands-on training and experience that otherwise would have taken years to develop. Now with his many years of horsemanship skills applied to his farrier skills, he has become one of the top farriers in Central Florida, and for this, he is passing his skills and special techniques down to individuals who are interested in becoming a professional farrier by trade.
In order for our private trade school to conduct accelerated courses, we keep our student body count to a minimum. There is a maximum of two students at a time per course. This allows each student to work on horses more often than watching other students work on horses. In order for students to work on a large variety of horses, students must plan to commute to other barns in the surrounding area with the instructor in addition to working on horses on school premises. Student's commute time is their classroom time. Our course sessions assure that students will be on their way to becoming a confident and qualified farrier.
~ VOTED #1 Horseshoeing School in the State of Florida ~
A "Farrier Tool Package" is included in the Professional Farrier Course (4 week course).
Students will learn to recognize tools of this trade and how to use them properly.
Key Points
Proper hoof balance is essential
Shoe fits the hoof; not hoof fits the shoe
Knowing proper use of farrier tools ensures good quality work





~ Expect to learn the skills & techniques of mastering this trade ~
Learn the anatomy and physiology of the horse's leg and hoof
Learn to balance, trim and shoe a horse's hoof
Get hands-on experience for Specialty and Therapeutic Shoeing
Learn how to fix problems with distorted hoofs
Bring back proper hoof balance with Corrective Shoeing
Learn hoof repair techniques and skills to bring the horse's hoof back to its natural angle
Learn to evaluate a horse's condition
Learn to determine if the shoeing process of the hoof is adequate for the horse's condition
Forge work - Learn hot and cold shoeing
Guidance on how to start and maintain your business
Instructors guide our students on how to obtain and keep a professional and trusting relationship with their clients. Educating on the importance
of keeping horses on a regular servicing schedule ranging every 4 to 6 weeks, depending on the horse's activity and their hoof care needs.
Two (2) Rasps

Two (2) Rasp Handles

Two (2) Hoof Knives (left hand and right hand)

One (1) 14" or 15" Hoof Nippers

One (1) pair Pull-Offs

One (1) pair Clinchers

One (1) Driving Hammer

One (1) Rounding Hammer
There is no extra charge for the student's farrier tool package as it is included in our Professional Farrier Course (4 week course).
Each student will receive this tool package while attending their course once tuition is paid in full. For students not taking
the Professional Farrier Course and would like to purchase this tool package, the cost is only $ 500.00 (prices subject to change).
For information on how you may purchase this tool package, please contact our office.
Bunkhouse accommodations are complimentary to students. PLEASE, no visitors or pets.
Bunkhouse contains a mini-fridge, gas stove, microwave oven, coffee maker, toaster, full-size bed and TV w/DVD player. Also stocked with cookware and kitchenware.
Students must provide food & drinks, bedding & pillows, towels & toiletries, etc.
Students may check in Sunday evenings between 5:00 PM and 7:00 PM.
Students who intend on arriving Monday mornings @ 7:30 AM instead of Sunday evening, please be sure to contact our office in advance.
Students arriving on Mondays will need to be ready to begin at 8:00 AM.
We accept Cash, Cashiers Checks, Money Orders, Visa and MasterCard.
Credit card purchases must be processed before students begins their first day.
No personal checks over $250.00.
NOTE: If paying by credit card, please be sure to contact your credit/debit card company to advise them of your purchase before we process your transaction(s). For your protection, most credit/debit card companies require verification from the cardholder prior to making a large purchase.